Originally a script for a video review, so some parts may stick out and, without visual aids, I recommend having played the game already! Note: this is for the original Tales of Symphonia, so if anything changed in the re-release, I haven't touched on it here.
Quick links to other entries:
Intro
Part 1
Part 2
Part 3
Part 4
—
—
—
23) Dual Duel Duet
In Meltokio we meet Sheena's fellow ninja Kuchinawa and some scientists who agree to prepare a boat. The party stays a night at Zelos' place, where Sheena gets flustered and embarrassed over Lloyd finding out that she likes flowers. Gotta give her that soft side. The next morning, Colette's shoulder is stiff
FORESHADOWING
but the boat's ready. They head to the docks where Colette sees the bridge for the first time
Note: Colette couldn't see anything without her soul.
and calls it gross-looking and Zelos tells her that's not an appropriate thing to say, even though he didn't care the last time he saw it. Everyone also laughs at Lloyd for being uglier than The Great Zelos Wilder—I can't make that up—and then they're off.
His face loses out to mine, though.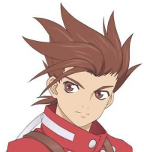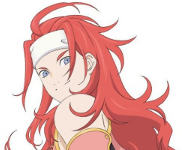 You be the judge!
The boat can be shrunken and transported in a capsule like in Dragonball, which amazes Lloyd. …wait. If shrinking things into capsules is new technology to him, then Noishe can't be—no. No, I'm done with that part. Not thinking about it anymore.
Before our next destination, the most interesting skit in the game pops up. I remembered it not showing until Flanoir, and even the official manga places it there, but if it can show up here too, let's go. The Two Chosen skit! The only skit to make it into the sadly-rushed manga.