Pixel Artists
PLEASE RT: ATTENTION #pixelart #gamedev friends! Need a job? Check it out! http://t.co/zuAjEOh1ti @JellyPaladin pic.twitter.com/mVFLi9Ou68

— Becca Bair (@TupelosHoney) May 4, 2015
The call to arms is out for pixel artists along with the help wanted page earlier this week! So exciting times are ahead on that front as we'll see who applies and what comes of it all. Actually, as I type this I already have a handful of applicants, all interesting… one in particular has a very, very nice FFVI-style character.
I'll give it at least a couple days to fully consider my options, though!
Battling in Style
On the development side, lots of spreadsheet-based insanity over the past week after I discovered that my power scale had gotten out of whack. I didn't mention this over the past few months because art was more visually interesting to post, but when I explained on the Dreamblazers main page that wearing certain outfit styles will boost stats, I only had that idea as recently as February or March. After all, back in November even I didn't know the ultimate purpose of the fashion system.
After I implemented the outfit bonuses, though, I hadn't put them through the ringer of playtesting battles until recently. I was happy with battle balance ten months ago since that was the first thing I did—and with formulas based on Pokémon but on a weakened scale, how could I possibly screw it up just with some minor bonuses? It's not like Pokémon items such as the Life Orb or Soft Sand fundamentally change the game.
But, well, I screwed it up anyway. =P
I can never again criticize a card game for power creep. I'm making a standalone RPG and it's still seeping in somehow. :P

— Jelly Paladin (@JellyPaladin) May 1, 2015
The bonuses I gave were just too strong, especially three-style bonuses and barefoot fashions for hand-to-hand combatants (and I have several hand-to-hand combatants because martial arts are for girls).
Regarding barefoot fashions, this was basically the same dilemma that many RPGs face with monks who can use weapons but also don't need them. If you make their bare hands too powerful then why bother with the option of weapons (Final Fantasy style), but if you make weapons too powerful then why bother with a unique ability to fight with their bare hands (Etrian Odyssey III style)?
Dreamblazers doesn't have swappable weapons, so I used shoes for a similar effect and wound up with the first option: shoes just weren't worth wearing. In the end, though, this dilemma was pretty easy to resolve once I saw it in action and did the math.
Regarding three-style bonuses, this was and still is a more complex dilemma about stacking. It's significantly more difficult to get a girl into three styles than only two, so I wanted a three-style bonus to be noticeably stronger than a two-style bonus… but having a three-style bonus also usually means having three other two-style bonuses.
To illustrate, let's say you're a player and you believe there might be three-style bonuses for Dancer+Formal+GirlyGirl or for Cool+Speedy+Sporty. (I'm not going to say whether there are!) While assembling these outfits, you'd also naturally be assembling Dancer+Formal, Dancer+GirlyGirl, Formal+GirlyGirl, Cool+Speedy, Cool+Sporty, and Speedy+Sporty, which could have their own bonuses! So potentially you're getting up to four total bonuses from a triple combo, not just the one.
I still haven't quite hit the mark on balancing out this power, so that work continues for now. I want players to explore and to feel rewarded for exploring the outfit system because it's certainly unlike anything I've seen in an RPG, but I do have to keep it from getting out of control.
Veteran Characters
I noticed that these past few weeks of devlogs have been mostly business, so I'll end with the return of some trivia—in a sense! One thing I appreciated about the most recent Super Smash Bros. was the All-Star mode that grouped characters according to their years of creation to give a sense of history, so I'll follow suit with my own characters.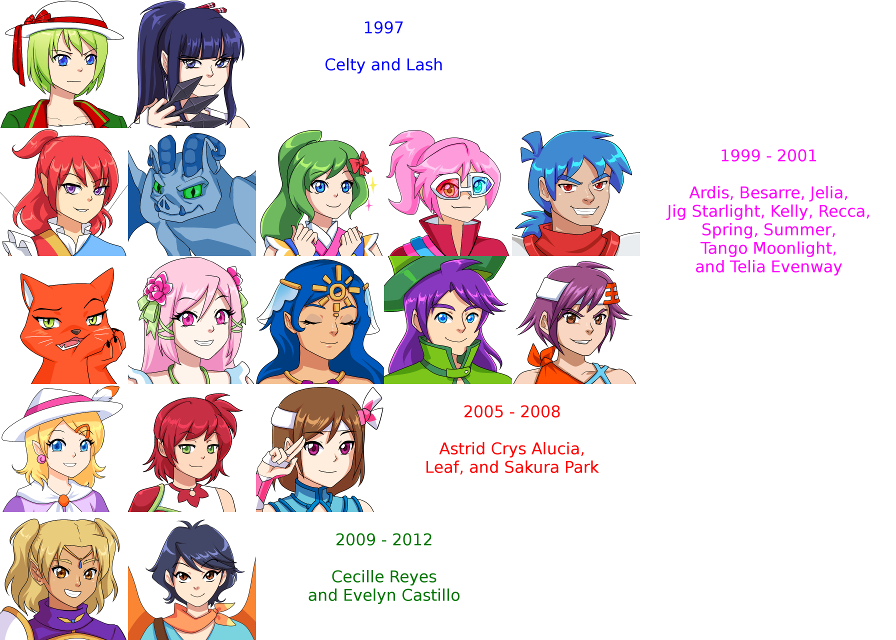 These are only the characters who have finished dialogue portraits, so each of these groupings of years will expand in the future to include some characters you can see on the Characters page and a few who aren't visible anywhere yet! =)
(Flora, if you're reading this: when I look at this I'm reminded to say thank you again, thank you still, and thank you always for teaming up with me and bringing my characters to life. Some of them have been waiting on me for a long, long time! )