Because of my divided time, progress has understandably slowed down a bit. Not only that, but I'm now learning about Makinom since that's going to be useful rather than continuing to build on the established stuff in ORK Framework and 2D Toolkit. So I didn't really have anything to report this week and I had to ask myself whether it was still worth posting a devlog. These posts themselves take important time too, of course, so ultimately I decided the answer was no—thus no post on Monday.
But I've reconsidered. These posts are my development history and, for better or worse, I'm going to keep up weekly posts even if they're smaller in scope than they used to be.
So rather than talking about what I did, which isn't much in terms of tangible progress, I'll talk about where my mindset's at. =)
You know what's pretty inconceivable? In the Princess Bride sense, I mean, not the literal sense? The amount of money in my bank account going up rather than down for the first time in sixteen months! This radical notion of no longer running on financial fumes has made me ask myself questions about the scope of what I can pay for.
Right now Becca is already making some overworld tiles that I forgot on our first go-around and also expanding the Seaside Slime Cove tiles with some new ideas that she and I had. If not for the job-out-of-nowhere, the Seaside Slime Cove tiles are something that I probably wouldn't have commissioned pre-Kickstarter—one way or another, new money needed to come in before I would go for it.
But there are other things I could pay for. Other than pixel art, just a few weeks ago I briefly mentioned the possibility of a full-blown visual fashion system like those online doll programs you see people make in Flash.
Or how about this? Games like Phantasy Star IV and Fire Emblem have used illustrated sequences to portray key scenes: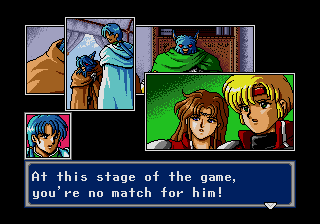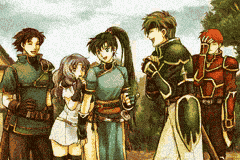 (For more of those Fire Emblem examples, see here: Fire Emblem cut scenes)
I say "key scenes" because they didn't illustrate every scene. Every scene would be the domain of games like Phoenix Wright, visual novels, or visual novel hybrids like Sakura Wars: So Long, My Love (one of my favorite games).
I can't remember if I've discussed this on the blog, but I've definitely mentioned my approach to writing the story on Twitter:
How I write my RPG story lately: ask which characters haven't had standout scenes yet, then create circumstances that would give them one.

— Jelly Paladin (@JellyPaladin) August 15, 2014
Virtually every character gets to have at least one shining scene (or sometimes two characters at once if they're fighting against or with each other), so maybe I could spice those up.
These are all brainstorms, of course, but the Kickstarter audience tends to want to know about developers' ambitions—things that they'd like to do and things that they have to leave on the cutting room floor but could revisit later if circumstances allow.
…oh yeah! Speaking of the cutting room floor, I meant to link to this blog post over on my musings section from a couple weeks back.
While it's still a big part of the game that you can "keep the characters you like and kick out the ones you don't", my original conception of Dreamblazers included the option to go even further than that—I wanted players to be able to switch character parties. Don't agree with the dreams that Leaf and Celty chase? Then ignore those two and go play as Sakura and Evelyn instead. Sakura and Evelyn are about to battle against Kelly and Jun and you think Kelly and Jun make a convincing case that they're in the right? Then switch to playing them at literally the last moment.
Of course, if Sakura and Evelyn were defeated then the story would have to end, but I liked the idea—it reminded me of the New Game+ option in Chrono Trigger where, at any given point in the story, the heroes can abandon whatever they're doing and go beat up the final boss, leaving the timeline in total disarry.
A design philosophy like this is part of why I modeled the stat growth formulas and damage formulas after Pokémon: I wanted a player-vs.-player feel where the "antagonists" were designed in the same mold rather than being on totally different scales. In most RPGs, enemies have ten times or even a hundred times or even a thousand times as much HP as the playable characters, but the playable characters do more damage to compensate. This always make for awkward scenarios when a former antagonist joins up with the good guys and suddenly they're no longer the imposing, indestructible force that you once battled against. Dreamblazers was meant, at least initially, for the player to be able to switch "allegiances."
This proved to be way, way, way too ambitious, though, so it's no longer an option. Rather than multiple concurrent stories, right now my goal is alternating stories in the vein of games like Dragon Quest IV and Mother 3: play as one group of characters for a bit, then a different group, then check back in on the previous group, and so on.
Can I even pull this off? I honestly don't know:
I finally understand why Golden Sun 1 and 2 were separate games. Concurrently-running stories might be overambitious for any RPG…

— Jelly Paladin (@JellyPaladin) June 17, 2015
If I don't want an endless, impossible-to-complete story, then I'd better live with a lot of events that my protagonists don't observe.

— Jelly Paladin (@JellyPaladin) June 17, 2015
But that's my current thought process and I've found that being able to use this technique is really helpful whenever I hit a wall in the writing process and don't know where a specific group of characters should go next. Instead of throwing them into filler situations, why not write in a time skip without actually skipping time by leaving some characters behind to check out what other characters are doing elsewhere?
…
Huh! For a post that I was reluctant to write because I thought I wouldn't have enough to say, this turned out pretty enriching. =) At any rate, talk to you all again at the more usual time of Monday in just a few days!