Here's an animated Harpilure from Liz!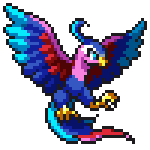 Let's talk about this lovely beauty.
Just like the slimes are an early monster type there to teach about the need for magic and different element types and the Slugwall is an early monster type there to teach that size isn't everything, the Harpilure is also an instructive monster! This one doesn't have a bloated amount of HP or near-immunity to physical attacks, but instead is a classical annoying creature that swiftly throws status effects at the player party. Although Harpilures aren't especially powerful, their elusive prankster nature and the obvious advantage of flight allows them to make homes in many areas of many continents.
By the way, one perk of the entire gamedev process is getting to look up the beautiful creatures and locations of our own world. Just look at some of the cool Earth birds I got to sift through. :D Better yet, how about a few of the sea slugs?
What's another perk? Well, the people I get to work with! Here's the brand new Team page with over 1,200 words describing every current member of Team Jelly Paladin. :D Be absolutely sure to check it out: that's the big attraction for this week's post!
I'll leave it there for today. I've only just recently fully recovered from last week's 10-hour Disneyland extravaganza (or 16 hours factoring in travel and leaving the park… or 21-ish hours factoring in preparation!), but even putting that aside, I've noticed these posts are beginning to take more time to put together than is beneficial, so I'm trying to cut back and go with more of a teaser route.