Last (two-ish) weeks' achievements
* Sent character feedback for Eris (final), Misty (round 1), Minori (round 2), Mina (round 2), and Star (round 2)
Current focus
Wrapping up art and the transition to 2D.
Sample stuff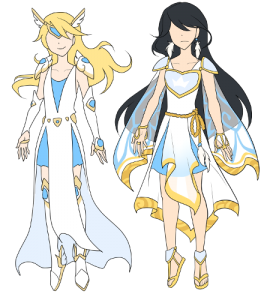 Eris Kenos on the right and a mystery character on the left. The mystery character actually won't appear until the third game—if I get that far!—but since we stumbled onto her design, I decided to just go with her. =)
Weekly goals
* Send character design feedback for all pending characters (Mina, Minori, Misty, Star, Tango)
* Figure out how to use 2D Toolkit (and other Unity assets if needed) to get basic top-down map movement functional
Comments
Normally Hawaii is warm, humid, and rainy, but the recent hurricane seems to have disrupted the local weather—instead it was hot, humid, and sunny. Heat and sweat aren't a great combination for productivity!
I'm mostly recovered and rejuvenated from the trip now, although I'm still adjusting to the time zone shift, so I'll be getting cracking again. =) The character designs are first priorities since these should be the final ones with Flora and I fully expect to get them all—Mina, Misty, and Star are all especially close to being finished.
And then it's back to understanding Unity. I've essentially taken two weeks off because of my trip, preparation for my trip, and cooldown after my trip, so hopefully I can transition smoothly back into the swing of it. x_x